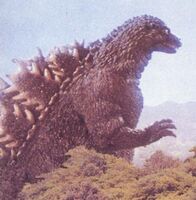 RadoGoji is the Godzilla suit used in Godzilla vs. MechaGodzilla II.
It looks similar to BatGoji, except that the plates are in a diffrent shape. The shoulders appears to be smaller as well the suit's legs are a little slimmer than before. The suit's color is still darkgrey. The neck are a little shorter and the tail is placed a little higher. Like Batgoji, the head can tilt up and down.
The suit is also used for the adult Godzilla Junior at the end of Godzilla vs Destoroyah (1995).
Ad blocker interference detected!
Wikia is a free-to-use site that makes money from advertising. We have a modified experience for viewers using ad blockers

Wikia is not accessible if you've made further modifications. Remove the custom ad blocker rule(s) and the page will load as expected.