MogeGoji/DesuGoji is the Godzilla suit used in Godzilla vs. SpaceGodzilla 1994 and Godzilla vs. Destoroyah 1995.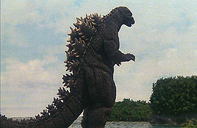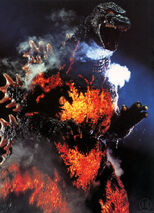 This suit looks smiliar to RadoGoji, only a little bigger and an other design. The eyes appears to be bigger and is now golden. In the head of the suit it is a mechanical device that allows the suit to move in diffrent directions. The color of the suit seems to be black with darkblue hue. The neck is wide at the shoulders. In next movie, the suit was recolored and they placed lamps in side the suit.
Ad blocker interference detected!
Wikia is a free-to-use site that makes money from advertising. We have a modified experience for viewers using ad blockers

Wikia is not accessible if you've made further modifications. Remove the custom ad blocker rule(s) and the page will load as expected.