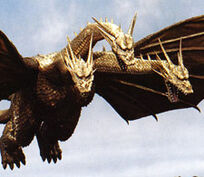 Name
King Ghidorah
Alternate names
Ghidorah, Three headed Monster, Mecha King Ghidorah
Species

Threeheaded spacedragon,
Mutated Dorats (Heisei).

Gender
Male
Eyecolor
Grey
Height and Length

49 meters height (Showa and Millenium)

120 meters height (Heisei)

Weight
25 000-70 000 tons
Abilites
Gravity beams, lightining beams, flight, hurricane winds
Allies and Enemies

Godzilla (Archenemy)
Mothra (Archenemy/Ally in GMK)
Other Earth monsters (Enemies)
Gigan (Ally)
Appearance
Edit
King Ghidorah is an Dragon with three heads with horns. He got two tails and bat-like wings. He has no arms and only legs. In the Showa series, he has a mane on each head. He has golden skin.
He first appeared as the main antagonist in Ghidorah, the Three-Headed Monster 1964.
Ad blocker interference detected!
Wikia is a free-to-use site that makes money from advertising. We have a modified experience for viewers using ad blockers

Wikia is not accessible if you've made further modifications. Remove the custom ad blocker rule(s) and the page will load as expected.